Top Reasons to Invest in a Hospital Token System Software
A survey report states that 97% of patients are frustrated by wait times. It's no surprise that waiting is frustrating, especially waiting in the hospital's queue when patients need medical attention. Reducing patient waiting times is one of the major goals of any healthcare organisation.
Providing timely care to the patient drives patient experience and improves patient satisfaction scores. However, with an outdated queuing approach, hospitals cannot keep pace with today's digital-savvy patients.
Leveraging technologies such as hospital token system software can help in addressing the issue of managing long queues and related staffing challenges. This system helps in improving patient satisfaction rates by addressing service inefficiencies. During the Covid-19 pandemic, it has also empowered the patients as well as hospitals to practice safe social distancing.
In this entry, we will explore how a hospital token system software can bring a positive difference to your hospital. 
Key Takeaways
Patient wait times have a strong influence on patient satisfaction levels

A hospital token system software helps in managing patient flow with great ease

The system provides many benefits to hospitals, including streamlining workflows, increasing revenues by reducing walkaways, and boosting employee satisfaction

A hospital token system software provides many benefits to patients, such as increased transparency and reduced anxiety
Advantages of Hospital Token System Software:
Benefits for Hospitals and Doctors
1. Streamlines Workflow
A hospital token system software is a simple and flexible solution for hospitals to manage the patient crowd. The system brings order to the waiting area and patient flow by streamlining the queues and the waiting process. By doing this, you can drive both patient satisfaction and also employee satisfaction as their work becomes easier.
Additionally, the software can be deployed at multiple touchpoints of the hospital, like at pharmacies, labs, etc. This ensures reduced rush around these areas. And, also it allows providing a better service to each patient who is on the way in as the staff has to worry less about waiting patients. 
2. Reduces Walkaways
Patients walk away for several different reasons. And, one that tops the list is long waiting times. It is true that waiting is an unavoidable part of the patients' journey. But, asking your patients to wait without any communication is no longer acceptable.
Fortunately, deploying a hospital token system software can lower the crowd management stress and maximise patient satisfaction. This structured process keeps the patient apprised of their consultation time without making them wait anxiously.
A smart virtual hospital token system can manage both online and walk-in appointments. This software uses digital signage to display the real-time queue position. 
3. Maintains Professionalism
A hospital token system software does more than just efficiently manage the patient inflow. It also shows how much you care about the patient experience and their satisfaction levels.  
Deploying this solution makes you create a systematic approach to organising operational tasks. This will enrich the patient experience while creating a positive brand image.
4. Boost Staff Morale
If patient satisfaction is your topmost priority, then you need to equally focus on staff satisfaction as well. Meaning, an unmanageable patient crowd at the hospital with uncountable queries can limit staff productivity.
Having a hospital token system software in place can improve staff focus on patient experience activities. This way you can expect more excellent services from staff.  
5. Improve Care Service Quality
A well-organised queue has a positive impact not only on revenues but also on the care service quality. The right hospital token system solution offers valuable data, such as the average wait time of individual patients.
These metrics can be used to identify waiting times for individual doctors and help identify time slots with high waiting times. This information can be used to improve the patient experience. You can also use the waiting time information for services, such as labs and pharmacies, to optimise workflows.
6. Boosts Revenue
Long waiting times can lead to revenue losses for patients. A confusing and frustrating waiting experience is enough to make the patients leave. And, once patients go away, they are unlikely to ever come back. This will have a negative influence on the patient base and overall hospital revenue. 
In short, a hospital token system software provides an optimal solution to elevate the patient waiting experience and transform the way hospitals manage the waiting process. Hence, going for a hospital token system software can be a worthy investment.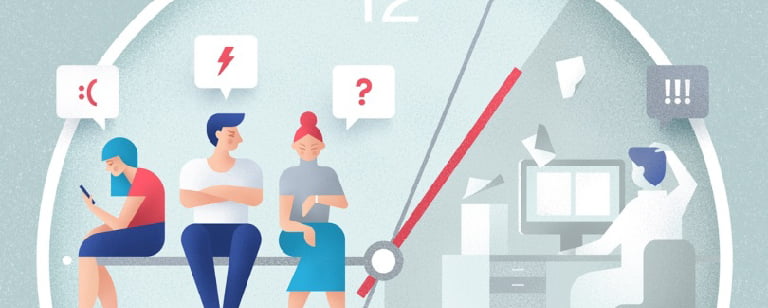 Benefits for Patients
1. Creates a Good Experience
Unorganised queues and unpredictable wait times in a hospital can create more complexity and result in a terrible patient experience. Thankfully, with a hospital token system, patients have a clearer idea of the approximate waiting time.
Additionally, some smart hospital token system systems do also send automated SMS reminders to patients to ensure their availability. This way, you can further lessen the staff workload and significantly improve the patient experience.
2. Reduces Anxiety
A research report says that 80% of patients would be less annoyed if they knew how long the wait time would be.  
Patients have a 'Fear of Missing Out' their consultation slot with their doctor. So, they line up for the doctor to see them on time.  But as they become bored, they grow frustrated. This prolonged process and long waiting time can make them anxious while sitting in a waiting room.
Fortunately, with a hospital token system approach, patients are well informed of their waiting time. This frees them to wait outside comfortably without any stress and anxiety until they can be seen by the doctor.
3. Improves Transparency
Leveraging digital technologies to organise the queues can provide greater transparency amongst patients. A hospital token system software allows real-time queue status information and also updates the patient on the time to arrive. 
The approach shows that you value your patients' time and can gain their trust. This will turn every patient into a loyal customer. 
Conclusion:
A hospital token system is a smart solution that effectively manages and controls the patient crowd during peak hours. Implementing a hospital token system reduces patient waiting time, leading to improved patient satisfaction levels.
BestDoc Queue is an intelligent queue management tool that facilitates a seamless patient journey through its unique token system solutions. The system generates a token for every patient and allows them to enter in a queue, making it easier for patients to access healthcare services instead of walking away.
Click here for more details.
6 Mins Read

Author | Gayatri Vernekar