An NABH accreditation is a prestigious recognition for any hospital. The NABH Quality Standards have 10 chapters, incorporating 102 Standards and 636 objective elements. This blog focuses on NABH compliance aspects related to patient feedback and patient satisfaction surveys.
6 Mins Read

Written By | Pooja George
Key Takeaways:
Patient satisfaction is a key quality indicator for NABH accreditation

The patient feedback form should cover all aspects of the patient experience to get comprehensive feedback

Queries should be relevant for hospital management to take corrective action

Feedback questions should be easy to understand

Keep feedback collection methods patient-friendly to get maximum feedback

Making the feedback process compliant with NABH's requirements can help hospitals get closer to a NABH accreditation, increase patient satisfaction and improve brand reputation
Patient Satisfaction: A Key Quality Indicator
The NABH 5th edition identifies 32 Key performance indicators (also known as quality indicators). In the chapter on Patient Rights and Education. 7, the standard has stipulated that the organisations should have a mechanism to capture patient feedback and redress complaints.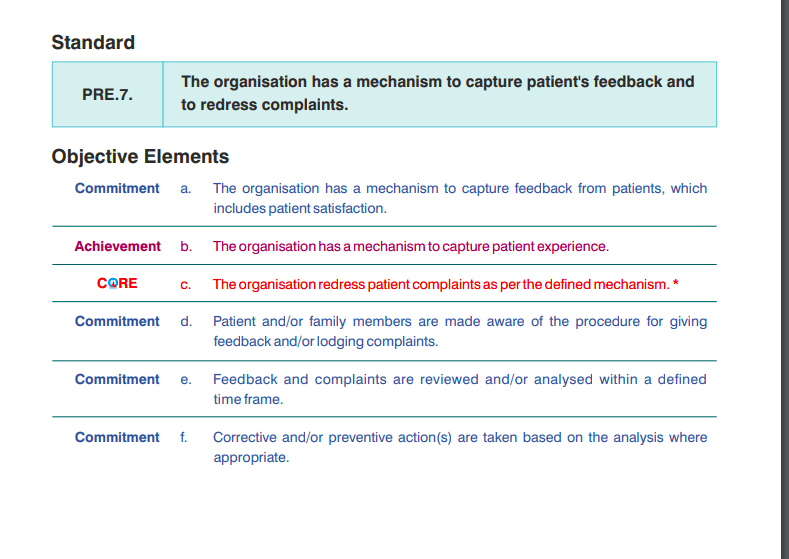 Image Source: NABH.co
Besides, the chapter "Continuous Quality Improvement"  4  states that the organization should identify key indicators to monitor the managerial structures, processes, and outcomes used as tools for continuous improvement. 
Based on these requirements, the Patient Satisfaction Index becomes a key quality indicator. The organization has to measure both the out-patient satisfaction score and In-patient satisfaction score.
In light of the above NABH standard requirements, you would be keen to decipher what are the key parameters that should be part of the patient satisfaction survey.
Having been in the industry for over a decade, I have encountered two types of organizations. There are those that embrace the NABH standards for short-term goals and those that have adopted it as a philosophy for long-term development. The difference in the two approaches would be evident in the very fabric of the organization's culture and outcomes as well, with the latter tilting to a delighted patient experience and greater customer loyalty.
NABH Guidelines for Patient Satisfaction Surveys:
NABH, as a mandate, stipulates that organizations should conduct patient satisfaction surveys for their OPD,  IP, and PHC centers. However, it does not prescribe whether you need to incorporate 10 or 30 questions or hit 97% patient satisfaction rates or 70%. These are organizational decisions. However, if the organization is committed to patient excellence, it would be a logical extension to ensure that you try and understand how the patient perceives the services you have delivered in a 360-degree manner. At the same time, you should avoid tiring the patients out with a barrage of questions. NABH cares that the organization is focused on continuous quality improvement.
Devising the Feedback Form: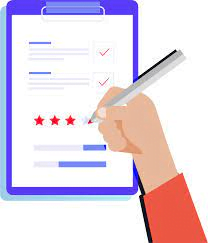 Parameters
Going through each of the ten chapters in the NABH guidelines, you can derive many probing questions. Some of these would be related to as follows: 
Was the patient able to receive clear and concise information when they contacted the hospital?
Speed of the emergency response
Basis assessment was there sufficient explanation provided about the assessment done, diagnosis, etc.
Patient perception of the relevance of tests conducted
Timeliness of reports received from the laboratory
The experience at critical areas like the blood bank and organ donation service
Communication and care by the staff, including doctors and nurses, the OT service, and post-operative care experience
How confident was the patient that the staff was taking adequate and precise safety measures like sterilization, hand washing, etc?
Besides, feedback on support services like housekeeping, security, food & beverages, etc., would also be vital. A lot of patients expect clinical services to be as good or bad as the support services received. For example, if they see a dirty washroom in a hospital, they would quickly conclude the hospital itself is not reliable.
Relevance of the Query
Care needs to be taken to see that the questions in the feedback form are relevant over a period of time. A case in point: In the OPD feedback form of a large corporate hospital, there was a question about the waiting area. The feedback received was consistent that it was small. However, management could not do much about it since there was an infrastructural constraint. So, this question irritated and agitated the patients. They jumped to the conclusion that the management did not care, and the feedback exercise was pointless. It would be prudent to keep the patients aware of changes based on the feedback received in such cases. Also, hospitals should avoid asking questions where significant insights have already been attained.
Ease of Understanding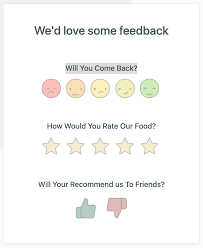 The importance of keeping the questionnaire in a simple format for ease of understanding cannot be overstated. Case example: In a top tier city's NABH-accredited hospital, the OPD form suggested that 1 is a low score and 5 means great experience. However, the patients would tick one most of the time. On further probing, it became clear that the patient did not read the form carefully and by default felt that the No. "1" means good and No. 5 means bad and marked accordingly. So structuring the questionnaire to facilitate ease of understanding would enable you to get accurate results. 
Methodology of Feedback Collection
To capture authentic feedback from patients, it is important to make the patient feel comfortable enough to express. Besides, it is essential to make it easy and convenient for them to provide feedback. For example, a large hospital in India was providing pen and paper to patients to fill out the survey form post-discharge. Consequently, it could not capture significant inputs and get a sufficient sample size for their NABH audits. 
Using BestDoc's Survey solution helped them increase their feedback collection since patients were provided with multiple feedback options. The intelligent tracking capabilities of the solution helped notify departments that received sub-optimal feedback to resolve issues swiftly. 
The solution not only helped them increase their survey sample size but also convert patient feedback from "good" to "great." The simplified feedback form collection mechanism and redressal method helped the hospital become compliant with NABH's guidelines.
The Key Benefits of Making Patient Feedback NABH-Compliant
NABH – National Accreditation Board for Hospitals & Healthcare Providers is a constituent board of the Quality Council of India. The standards of NABH are now being recognized internationally at par with other global healthcare accreditation standards and accredited by ISQua (International Society for Quality Assurance in Healthcare).
A robust feedback collection mechanism is a key requirement for every hospital would be a great place to get started. For this, the parameters in the feedback form would have to be benchmarked to National and International standards. As stated by Narayana Murthy, " We must benchmark ourselves against the best in the world." 
Making the feedback process compliant with NABH's requirements can help hospitals get closer to a NABH accredition and improve patient satisfaction and brand reputation.
Technology can Help Improve NABH Compliance
Embracing technology for patient satisfaction surveys can help healthcare organizations in multiple ways, such as:
Increase response rates
Get more accurate feedback
Help delivery of timely feedback to the concerned department/ personnel 
Take remediation measures at a faster pace
Final Thoughts
Besides helping you avoid non-compliances for patient satisfaction surveys during NABH audits,   technology-led solutions would truly help capture your patients' opinions.
Our solution makes it easy for patients to answer feedback questions through various digital channels. Hospitals have also used our solution to provide patients with the option of answering in their native language.
Click here to know more.