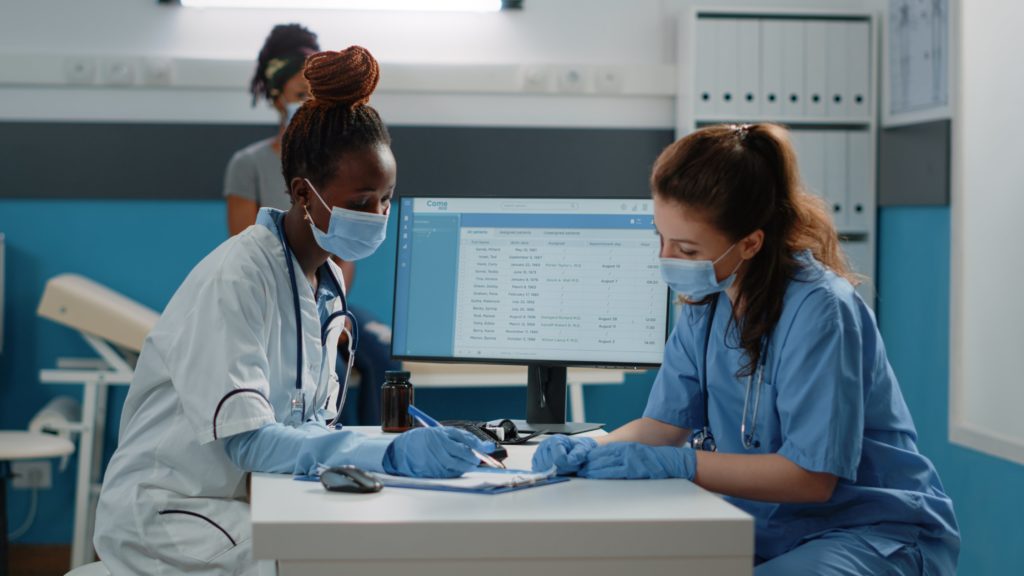 Battling Healthcare Burnout Through Tech
Key Learning Points
The Healthcare industry globally is reeling with acute burnout among nurses and administrative staff. Post Covid-19, the situation has grown into a pandemic in itself.

Excessive workload, long working hours, undue expectations, staff shortage, and inefficient processes are the major reasons behind this alarming situation.

Besides taking a toll on the health and overall well-being of nurses and staff, work overload-induced burnout is making a dent in the financial books of hospitals too.

Nursing and healthcare workers worldwide are advocating for the adoption of innovative technology and process automation in workflow for minimizing the impact of burnout.

Technological tools like virtual nurses, speech recognition, process automation, patient interactive tools, remote monitoring, etc. are promising a better scenario to combat healthcare burnout. 
Introduction: Staff Burnout in Healthcare
Healthcare burnout has long plagued providers and staff, particularly nurses, and has been a major source of concern for organizations. On top of that, the COVID-19 pandemic has aggravated the situation.
In this article, we examine burnout: the factors that contribute to it, how widespread it scales, how it affects nurses and other healthcare workers, its negative impact on the business of healthcare organizations, and how technology can help avoid it.
Healthcare Burnout Statistics: What the Numbers Say
According to Nurse.org, burnout in nurses is "a physical, mental, and emotional state brought on by continuous overwork and a lack of job fulfillment and support."
It frequently exhibits disengagement, alienation, and a persistent sense of helplessness.
Although burnout is a widespread occupational problem that affects every business, it is particularly common in nursing due to the high emotional and physical demands of the job.
As a result of their difficulty coping, nurses who are burnt out may start acting out negatively toward their jobs, their patients, and their coworkers.
Therefore, a hospital as a whole may be affected by burnt-out nursing staff, which can have an effect on everything from clinical outcomes and patient satisfaction to turnover rates and recruiting expenses.
A study spanning two years found that 54% of nurses surveyed experienced burnout, with 28% having high levels of burnout. Among participants that took the survey both years, emotional exhaustion scores increased by 10%.
Burnout Among Administrative Staff
According to a recent study, healthcare administrators and leaders are equally plagued by burnout. The Medical Group Management Association studied the phenomenon and found that 45% of all healthcare workers reported burnout.
Adverse Impact Of Staff Burnout On Healthcare Business
A high nurse burnout rate can translate to costly turnover expenses, putting a large financial toll on hospitals.

Recent staffing data

revealed that registered nurse turnover costs the average hospital between

$3.6

and

$6.5 million

each year in turnover and recruiting costs, considering that it costs between

$28,400

to

$51,700

to replace a nurse.

According to estimates

,

17.5%

of nurses quit their first employment within the first year, and an incredible

33.5%

quit within the first two years.

In trying to combat nurse shortages, hospitals resort to hiring expensive travel nurses, who often receive high pay rates of up to

$9,000

per week

. In 2020, nearly

90%

of hospitals hired travel nurses

, though that number may have been high because of the pandemic

Globally, hospitals are facing an acute shortage of nursing staff, leading to hampered operations and poor patient experience.

With one survey

finding nearly

19.5%

of nurses between 20 and 39 questioning their commitment to the profession, this unfortunate trend could continue in the years ahead.

Due to their direct involvement in patient care, nurses have a significant impact on patient satisfaction. Burnout among nurses has a negative influence on patient care and engagement, both of which have significant financial repercussions.

Alienating patients

is the worst of these.
Hospitals incur average losses of $506,755 for each patient lost. Unfortunately, dissatisfied patients often take their families with them. It's estimated that the loss of lifetime household healthcare expenditure cost hospitals over $1.5 million.
How Technology Can Help in Reducing Burnout in Healthcare
Technology when used properly, can be the ideal solution to help reduce burnout among nurses and other healthcare workers. Here are just a few of the ways technology can be used to alleviate healthcare burnout.
Improves Nurse Retention Rates
Research shows that at least 37% of nurses considered leaving their profession due to burnout and stress.
The attrition rate for registered nurses reached 27% in 2021, up 12% from 2019. When health systems lose nurses, those that stay face extra pressure, from picking up more shifts to caring for a larger number of patients.
According to a survey of 600 nurses, 82% agreed that technology improves patient care. For them, technology in healthcare helps add time back into their day—and with nurse burnout on the rise, it may help nurses from leaving their practice setting.
Streamlining Communications
With an estimated 80% of serious medical errors resulting from miscommunications and misunderstandings, nurse communication with clinicians is essential to ensuring the best possible patient care. Poor communication is linked to lower morale, preventable mistakes, and high turnover rates, according to research from the Online Journal of Nursing Issues.
Effective communication in nursing can be a challenge in healthcare organizations using outdated and inefficient communication tools making it harder to reach the right person at the right time and burdening care teams.
By switching to a clinical communication and collaboration system that is mobile-ready and HIPAA-compliant, nurses can securely and instantly message members of the care team to quickly get their questions answered. So that nurses never have to figure out who is where, these solutions also contain current scheduling information.
For non-clinical communication, technology-based request management solutions can help direct non-nursing tasks to respective departments, such as housekeeping or maintenance. This can significantly reduce the workload of nurses. 
Reduces Medical Errors
No nurse plans to make a medication error, but inadequate nurse staffing and chaotic working conditions can lead to distractions and mistakes. Additionally, nurses who work long hours are at a higher risk of making mistakes. Innovative technologies can decrease the chance of human error and can simplify routine procedures. For example, with virtual monitoring services, nurses have an additional safety net to ensure patients are monitored. EHRs also help with decreasing mistakes at the bedside by making comprehensive patient data readily available. This way, EHRs can help reduce duplication of tests or delays in treatment.
Reduce The Pain Of Nursing Shortage
The shortage of nursing staff is one of the main causes of nurse burnout. According to the American Nursing Association, 96 out of 100 nurses report feeling exhausted at the beginning of their shift, and one-third of nurses feel that there are not enough personnel.
While there are many reasons for the nursing shortage, it was revealed in research that extended hours, tiresome schedules, staffing levels, demanding work and burnout, and the emotional toll of nursing contribute to nurses quitting their jobs at practices. In a 2021 study, 72% of nurses reported experiencing burnout while an alarming 90% of nurses stated they were considering leaving the profession altogether.
Strategies to address the nursing shortage include alleviating any work that can be done through AI and automation. Redesigned roles and processes using digitization and automation, where appropriate, can reduce time spent on repetitive tasks, and increase flexibility.
Telehealth, virtual assistants, inpatient bedside modules, smart & connected rooms, and automated drug administration are some examples of tech that can ease the daily jobs of nurses.
Improved Accessibility To Information
By improving the accuracy and clarity of medical records, and making data easily accessible, EHR/EMR has improved data accessibility for care staff.
Additionally, improvements in the telehealth ecosystem have been a major factor in making accessibility easier, particularly for patients who are dispersed geographically. With the aid of mobile applications, video conferencing, and remote patient monitoring, patients can quickly receive nursing care.
Reducing Alarm Fatigue
While devices monitor critical information and can detect a patient's physiological changes, the volume of information they produce causes a familiar problem – alarm fatigue. According to research, nurses respond to between 150 and 400 alarms during their shifts. Studies have shown that 85-90% of these alarms do not require clinical interventions. Due to the overwhelming volume of alerts, care teams may ignore alarms, turn down the volume, or change the settings – actions that can have serious consequences.
The solution? An alarm management system that gathers alerts from various systems, enhances them with contextual data and directs them to the appropriate member of the care team. This strategy distributes responsibility for evaluating and acting upon alerts rather than placing it solely on the shoulders of nurses. As a result, nurses experience less alarm fatigue and interruptions. When this occurs, nurses are free to concentrate on developing care plans and spending time with patients.
For Administrative And Other Staff
Improved workflows
According to a report from Notable, repetitive tasks like data entry, documentation, and other menial tasks take up an average of 57.5% of staff time, which ideally should be devoted to meaningful tasks. Due to the volume of repetitive tasks, more than half of the respondents expressed concern about burning out.
Technology has the potential to reduce administrative staff burnout by enhancing workflow efficiency throughout a health system.
According to a report, raising automation levels can aid healthcare organizations in maximizing efficiency and cutting costs. Technology, like automation, stands out due to its user-friendliness, minimal operational burden, and ability to work alongside humans by taking on repeatable, menial tasks.
Workforce Management
Long hours and inefficient or insufficient staffing place a significant burden on healthcare providers and staff, which, if unchecked, can quickly lead to burnout.
Technology can assist healthcare executives in effectively managing their workforce by allocating the proper resources to locations and shifts where they are most needed. Effective workforce management not only eases the burden on healthcare professionals but also contributes to better patient outcomes and overall patient experiences.
Digital Health Tools for Preventing Burnout in Healthcare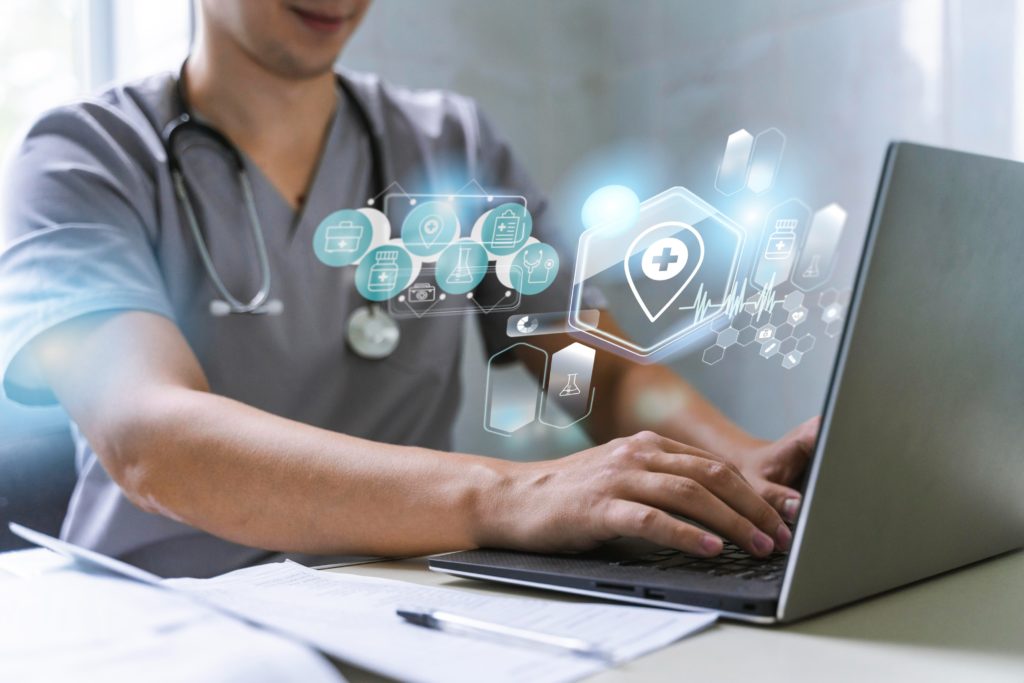 Here are some technology tools that can help prevent nurses and other healthcare administrators from suffering burnout:
Online diagnostic tools, Remote Monitoring and Telehealth
This digital technology secures health data from patients in any location and electronically transfers it to healthcare teams. Remote monitoring systems track patients' vital signs, allowing the care team to decide whether chronic illnesses require intervention in real-time.
When they can regularly monitor the health information of high-risk patients from afar, healthcare providers can keep chronic disease management out of the emergency department and their own stress to a minimum. More effective care management can lead to greater patient engagement and health outcomes, alleviating burnout.
Interactive Patient Tools
Patient-friendly digital tools, if executed correctly, assist in increasing patients' satisfaction, and create patient empowerment, all while decreasing the nursing burden. With the right technology, there are ways to give patients some of the controls related to non-nursing tasks like requesting food & beverages, housekeeping services, electrical equipment servicing, and giving them access to their health data. Patient-facing technology can remove communication barriers efficiently and effectively. Interactive patient care also builds a larger patient care team. Interactive patient technology like QR codes, tablets, infotainment cum feedback modules, and other digital mediums can all be configured to provide key services and prioritizes patient needs while taking the burden off the nurses and other administrative staff.
Virtual or avatar-based nurses
Many prospective uses have become possible as healthcare software development has advanced. One such application is virtual medical assistants, which relieve the load on healthcare personnel. These assistants are being used increasingly to further humanize and improve the experience for both patients and providers. According to Research and Markets, the virtual medical assistant market is expected to grow to $1.73 billion at a CAGR of 34.6% from 2019 to 2024.
Virtual nurses/assistants can help in:
Transcription

– Machine learning-powered virtual assistants can be trained to perform transcriptions of conversations between doctors/nurses and patients. This assistant delivers a fully transcribed and formatted clinical note, which is then reviewed and signed by the doctor. Afterward, it is integrated into the patient's electronic health records.

Medical Record Keeping

– Medical record keeping is another time-consuming, tedious task that can be automated with virtual assistants.

Assistance in Radiology

– While coming up with a diagnosis, radiologists are often overwhelmed with the amount of data they receive from different medical data sources. There is a lot of processing and analysis involved to produce the required radiology report. Virtual assistants can help radiologists at various stages of their workflows, enabling data integration and lookup.

Recovery and Discharge

–

According to Harvard Business Review

, virtual nursing assistants will save

$20 billion

annually on healthcare costs by 2026, by reducing the time nurses need to spend on their patients.

Patient Safety

–

As per a report

, overworked nursing staff may pose a serious threat to patient safety and well-being. When a nurse's workload exceeds the optimal level, the chances of patient safety incidents increase by around

30%

. By automating repetitive tasks, virtual nurses bring relief to human staff.
Process Automation
Some of the most significant opportunities to lessen nurse burnout and relieve overworked staff are offered by automated workflow technologies. By using voice recognition, NLP, and automation for data entry and other repetitive administrative tasks, these platforms and tools can reduce the workload in convenient ways.
Process automation is emerging as a valuable resource that the healthcare industry is adopting and implementing to drive positive results. In addition to easing worker fatigue, digital health solutions can significantly improve the patient experience too.
Perhaps if healthcare leaders take a different approach to how all healthcare staff interfaces with healthcare data, they can spend more time on their patients and themselves, leading to a healthier work environment.
Examples of process automation include:
Streamlined patient intake

Digital appointment reminders and notifications

Simple online scheduling abilities

Automated queue management

Online patient feedback solution

Automating patient discharge workflows
It is absolutely true that nurses and other healthcare staff are the backbones of the healthcare industry and we cannot disappoint them. With coming-of-age digital tools, we can better equip our healthcare workers to combat burnout effectively.
By integrating innovative tech into routine processes, health industry leaders can not only foster a better working environment for their staff but also achieve gains financially.
12 Mins Read
Author | Sayan Nan