Designing Patient Friendly Experiences: All You Need to Know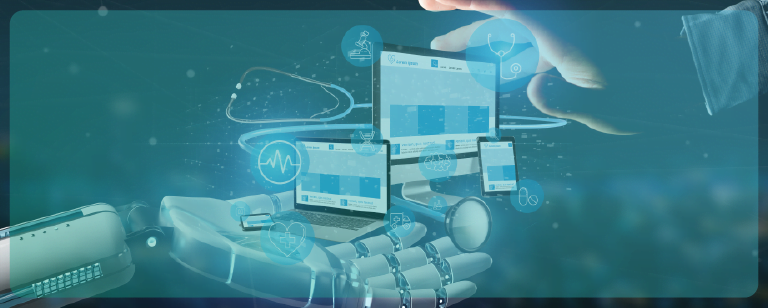 Digital transformation has significantly impacted healthcare and COVID-19 accelerated this transformation. In recent years many companies/startups have launched digital solutions to solve pain points of masses like Telemedicine, AI enabled Disease Diagnosis, Health Record, Insurance, Health Monitoring & Tracking, Diet Consultation, Wearable Devices etc.
Success of every product depends on user adoption and solutions with unsatisfactory user experiences are easily replaceable. In this blog we will cover aspects which can support in designing patient friendly digital products. However most of these suggestions are generic in nature and can be applied in building services or other types of products too.
Traditionally companies or hospitals used to build products primarily focussing on what they wanted to do, whereas ideally patients/users should be in the center of the framework. Sectors like e-commerce have very well incorporated this ideology and we experience personalized solutions/products on a daily basis.
To move to this process, first you have to be clear in terms of objectives and it must account for the value actual users will get. It can be – improving patient experience, bringing operational efficiency in hospitals, delivering medicine to remote areas, virtual diagnosis of diseases etc.
You can't do that if you don't know the users of the product as well as the stakeholders who can influence the behavior be it the patients, bystanders, nurses, doctors, administrators or even third-party associates of hospitals.
What Are The Design Goals?
Few questions which should be clear in mind before taking an attempt to develop the product are:
Who will be the users of the product?

What are the characteristics of users?

What are the pain points of users?

Why will they use the product?

How can you solve the pain points of the users?

How will you measure success?
To get a better understanding of all of the above, you have to talk, question, observe and most importantly empathize with the patients. Put yourself in a patient's position and think in terms of how you are feeling, what is the motivation for using the product, what do you want from the product etc.
In the retail sector, it's common practice to inflate prices and give discounts during offer/sale but empathy is at the core of the healthcare industry and is a key driver of patient satisfaction and positive word of mouth. When you want to develop products for patients you have to be conscious regarding the ethical issues like inclusiveness, transparency, usability and functionality. 
Considering patients at the center of frameworks will help the product to drive higher adherence and it will produce better outcomes for patients as well. To start with, you should first list the Do's & Don'ts basis your interaction with the users and at the same time list primary features or requirements of the product/service which are indispensable. User Journey Mapping is a widely known framework for defining and understanding requirements at different stages of journey.
Factors Affecting The Design

After you get a clarity on the above-mentioned points, now you have to think about other factors which can hamper a user-friendly experience. Some of the factors are given below:
Value

– It is easy to get tempted and add a lot of features in your product but you should be clear – is the feature valuable for the user? Data analysis can help you in understanding how users use the product. You can define metrics and understand which features are getting the most interactions.

Responsive

– The product should be responsive and should behave as expected in all the major OS/devices. Major digital products/websites are now accessed on smartphones so always keep this in your mind.

Appearance

– UI matters a lot and product should be liked by the user in first impression as the market is flooded with digital products and websites.

Friction

– Also, the product should be swift and functionally competent. Any glitch or delay can bounce the user to a competitor's product. Users want instant page loading and clear instructions for navigation.

If the page loading time is more than expected it's better to display time within which the page will load as studies showed that if loading time is displayed users tend to relax and bounce rate decreases.

Text vs Visual

– It is a well-known fact that users respond well with visuals (Images/Videos) instead of text. However, keeping a balance of both is very important.

Vernacularity

– Availability of regional languages can drive greater adoption of your product. It should have all major languages as per the region. As a fact, out of 400mn internet users in India, 300mn prefer the local language.

1

 

Consistency

– Innate experiences can be built if you focus on consistency throughout the product in terms of elements like fonts, icons, colors, structure, terminology etc.

CTAs

– First be clear what you want from the user on any page and make sure the CTA's stand out. Explore CTAs with different  text, shapes, colors and sizes as all of these impact the behavior of users.
To quantitatively measure and finalize design for any of the above-mentioned factors – you can define success metrics and do Alpha/Beta testing (aka A/B Testing). A/B testing will help you understand which element is influencing the patients to perform the expected action. Solutions for Web Usage Analytics and Session Replay are very common where you can passively understand how the user interacts with the solutions. 
While doing the data analysis be aware of Survivorship Bias – it can be defined as the mistake of focussing on the sample which has qualified any criteria. Quoting a well known example of survivorship bias from WW2 for better understanding – American bombers were crashing due to German attacks and they wanted to find the spots where bombers were getting most hits for better reinforcement.
They found that except for the cockpit and engines all the plane areas were damaged by bullets and they decided to focus on those areas but Abraham Wald (Mathematician) suggested concentrating on engine and cockpit because planes getting damage on those spots never came back. 
Similarly, for digital products – we analyze the sample who use the product but ideally the top funnel should be of all patients for whom the product was developed. It is recommended to interact with and understand the issues of patients who couldn't use the product or completed the user journey.
Now let's discuss the most important factor for designing a better patient experience i.e. Feedback. Usability testing, Survey and Feedback conversations are the active means of understanding challenges faced by patients, bystanders, hospital employees etc.
This is the single most important item, if not done well – there is no way patients will be going to use and love the product which the team has developed in silos. Our objective should be to build a better patient experience and that is not possible without the input from the actual user of the product.
Usability testing is one such step where we can observe patients or hospital employees how they are interacting with products. If you have developed any product, be it a website, app, software or even physical products you must have come across scenarios where either the users don't act as expected or they find loopholes to do what they want to do.
Interests of all related users/stakeholders should be considered while developing digital products in the healthcare industry be it patients, doctors, nurses, administrators or other hospital employees. Every user type would have certain needs and wants. Once you ensure involvement of all stakeholders you will be able to develop products which will add value. Patients or hospital employees would value your effort to hear their voices and improve the product.
Top 3 reasons Why Feedback is Crucial:
Product improvement

Discovery of issues

Customer satisfaction
The BestDoc Way of Designing Patient-Friendly Solutions
At BestDoc we have processes in place where different teams interact with the clients on a regular basis.
Thorough Research And Analysis
Before even deciding to build a product, the product team thoroughly tries to understand the Product Market Fit by doing multiple on-site surveys and observing the ideal users. Even surveying and getting insights from users is an art and you should be aware of not asking leading questions or becoming a victim of Confirmation Bias.
We always try to focus on the problems/pain points of users and then list the solutions, then we evaluate the solutions based on factors like impact, reach, user type, value of user segment, effort, etc.
Dedicated Staff And Optimized Processes
We hire dedicated CXE's (Customer Experience Executives) for faster adoption and onboarding of our hospital clients, although this depends on the product, hospital size and the product they select. We have streamlined processes where the Customer Success team captures the client requirements and feedback on a daily basis, analyze and assess the feasibility of requirements in comparison to the product roadmap and vision. These suggestions/feedback are documented and passed to the respective product managers and the requirements are added to the product backlog after review.
Product Deployment, Testing And Support
Once any client gets onboarded – CXE's, Customer Success team, Sales team, Product Managers and even top management leaders visit the hospital so that the client uses the products in the right way and understands the worth of our products. We deliver usage reports as per the defined schedule, where complete visibility is provided to the clients with apt recommendations and best practices done by our other clients. 
During analysis, if we come to know about any drop in usage or any abnormal metrics, we proactively visit the client, do surveys, understand the process flow in detail and then revert  to the client with an apt recommendation or timeline if we have to work on any requirement. Even while building common requirements, we love to hear voices of all the stakeholders resulting in the development of features which are much liked and used by our clients.
15 Mins Read
Author | Amit Soni 
https://www.thehindu.com/business/Industry/Local-language-internet-users-to-jump-to-400-million-by-2020-Google/article14799462.ece