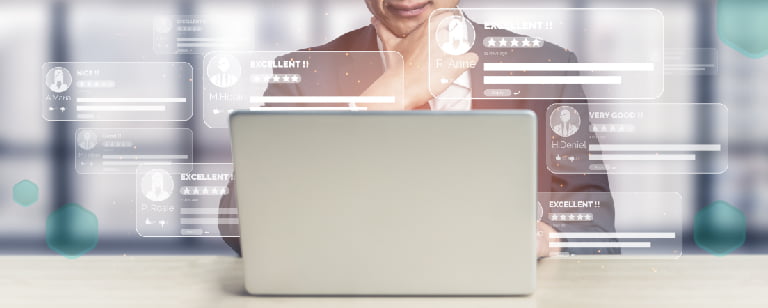 7 DIGITAL CHANNELS FOR COLLECTING PATIENT FEEDBACK EXPLAINED​
Digital Feedback Collection Channels: Pros and Cons
Below are the 7 main digital channels for patient satisfaction surveys and the pros and cons of each: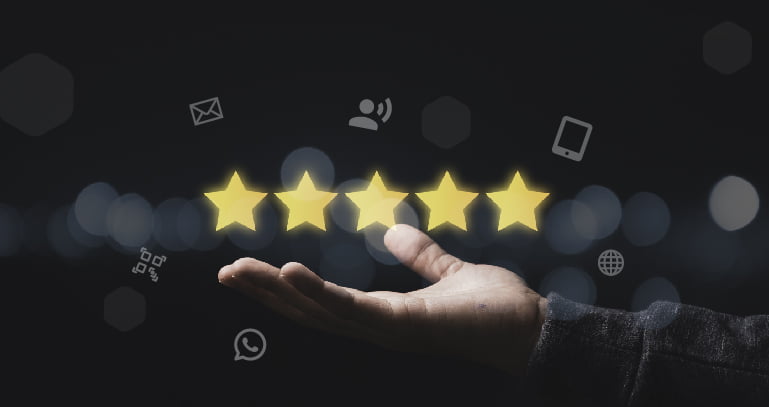 1. SMS
SMS surveys are an instant way to get valuable feedback. 
Pros
The open rate of SMS is above 90% 

Healthcare providers can send SMS surveys to any mobile device irrespective of the model of the phone

Do not require downloading any particular app like an instant messaging app or an Email app
Cons
Despite having a high open-rate, our analysis shows that the response rate of surveys on SMS is lesser than 5% depending on the survey length

SMS involves extra costs

Sharing surveys on hectic days or odd times can affect the number of responses

For surveys where the user has to send a response back, there are higher chances of human error

Longer surveys are not possible due to character count restrictions. Healthcare providers can overcome this limitation by including web links to detailed forms within SMSs
2. Email
Email surveys can be distributed by embedding survey links within emails. 
Pros
The average email open rate is nearly 22% for the health sector, which is in line with other industries

With an email survey, patients can preview the contact name and the intention of the survey through the subject line 

Email surveys are cost-effective than SMS surveys

Allow sending the surveys at convenient days (e.g. days other than Mondays) and times (between 9 AM to 5 PM)

Email surveys can be sent automatically at prescheduled timings

No character count restrictions allow personalizing communication to get higher responses
Cons
Patients may not respond to all the emails they open

People without internet access cannot take email surveys

Email surveys make it hard to reach people who do not regularly use email 

Survey participation can drop if the email text is too long
3. Website
Hospitals can collect meaningful patient feedback by embedding survey links to their website. 
Pros
Hospitals can introduce a section on their website to leave patient feedback

Patients can proactively leave feedback even without prompting
Cons
Response rates may be low as you are dependent on the user to visit the website

The hospital needs to have a website. Even if it has a website, it will require additional effort to integrate the survey on its website
4. WhatsApp
WhatsApp is undoubtedly a major medium of communication for many people. Hence, a patient satisfaction survey conducted via WhatApp can help drive engagement. 
  Pros
WhatsApp can support inline replies i.e you can ask patients about their experience and patients can reply immediately. This ensures an improved response rate.

Patients can identify the sender and not mistake it for a spam

Likely to get a higher response rate as people use WhatsApp more than other channels
Cons
Surveys on WhatsApp can be three times more expensive than normal SMS

Surveys can be more intrusive than other channels as it is a personal chat app

Difficulty reaching participants who do not use WhatsApp 

Cannot reach people with no internet access
5. IVR (Interactive Voice Response)
IVR surveys are automated call surveys with recorded messages. These surveys allow patients to respond to the questions by pressing the phone keys. For example, they can press 1 if they are happy or 2 if they are unhappy with a hospital's service. 
An added advantage is,  with IVR surveys patients can also provide their feedback through voice telephone input. This enables patients to leave detailed feedback. Furthermore, all these answers provided by the patients can be recorded for later analysis.
Pros
Suitable when patient feedback is critical, but the response rate is low

Do not require internet

Easy for the non-tech savvy population, such as the elderly

Allows unhappy patients to explain their grievance in detail
Cons
Not suitable for longer surveys

Lower response rate 
6. On-Premise Tablet Devices
With on-premise, tab-based surveys, the hospital administration can set up tablet PCs at various touchpoints to collect feedback. 
Pros
Convenient compared to paper-based forms

Potential to generate higher response rates 

Allow real-time reporting of experiences
Cons
Tablets need some initial investment

Dependent on network connectivity

Require maintenance of the device similar to mobile phones, such as charging
7. QR Codes
QR codes are an efficient way to get patient feedback with minimum resources. QR codes can be printed on medical bills or put up in the hospital reception area. 
Scanning the QR code directs the respondent to the survey page. The patient can fill it and submit the responses. 
Tip: Placement of the QR code should be easily accessible to get feedback right on the spot.  
Pros
Low investment method

Can be scanned by patients anytime

Provide quick access to the survey when the experience is fresh

Since the feedback is within the facility, the quality of responses and the completion rate can be high
 Cons
Lack of familiarity with the QR code among people

Dependability on a smartphone for a QR code reader
Benefits of Choosing the Right Channel for Collecting Patient Feedback
The right feedback collection channel can provide many benefits to hospitals, as follows. 
Increase Patient Engagement 
Digital feedback channels methods give patients the freedom to complete the survey at their convenience. Some of these methods, such as SMS or Whatsapp, allow patients to complete the feedback even after leaving the facility. 
Further, with digital channels, you can conduct surveys in multiple languages depending on your target audience.
Digital Feedback Channels can be Cost-Effective
With traditional surveys, hospitals spend a considerable amount of money on paper forms. Also, collecting feedback, organizing those forms, and analyzing needs more human resources. But digital channels are cost-effective in terms of collecting and analyzing patient feedback.  
Staff's time gets freed up from collecting patient feedback and can be used for other productive purposes.
Improve Online Reputation
Digital channels help in identifying negative feedback quickly and allow addressing the patient's concerns in real-time. There's no risk of missing out on any feedback or human delays in processing feedback. This helps hospitals minimize negative online reviews and improve their overall review ratings. A strong online identity can help hospitals bring in new patients.
Facilitate Informed Decision Making
A paper-based patient satisfaction survey does not provide a clear picture of hospital performance. But, feedback collected through digital channels provides much more actionable insights. Hospitals can use this feedback to make informed business decisions.
Conclusion: 
The use of digital channels for conducting patient satisfaction surveys can help hospitals get faster and more accurate feedback. These channels also boost patient engagement as they give patients multiple options to give feedback. 
Best Surveys is an omnichannel patient feedback solution for conducting patient satisfaction surveys. Several hospitals have benefited from Best Surveys feedback collection flexibility and intelligent analytics. Click here to know more.
4Mins Read

Written By | Gayatri Vernekar