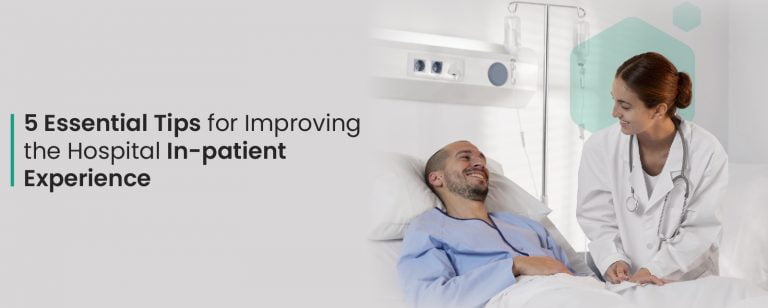 5 Essential Tips for Improving the Hospital In-patient Experience
When a patient is admitted to the hospital, they are in the most vulnerable of situations. Each gesture, design, process needs to be structured to ensure that the patient feels taken care of.  In this blog, we discuss five essential tips that can improve the hospital in-patient experience.
Key Takeaways
Inefficient workflows are a barrier to providing a superior in-patient experience

Timely and effective communication to patients can help reduce their anxiety as well as of their family members

Hospitals should share with patients the steps they need to take to expedite their discharge process

Nurses should spend less time on administrative activities and more on patient care

Patients should be empowered to administer self-care wherever possible

Robust feedback and grievance redressal system allows hospitals to take swift action while the patient is still in the hospital
Inefficient Workflows: A Key Barrier to a Superior In-Patient Experience
Typically, healthcare staff would like to be empathetic and caring towards the patients.  However, there are certain aspects based on the workflow that could get them overburdened and seem mechanical. This in turn limits the amount of interaction that they would have ideally liked to engage in. 
To ensure that the staff workload is curated to provide ample patient care time and provide ready access to their requirements to lessen their distress, we need to re-look at the way care is provided during the in-patient stay.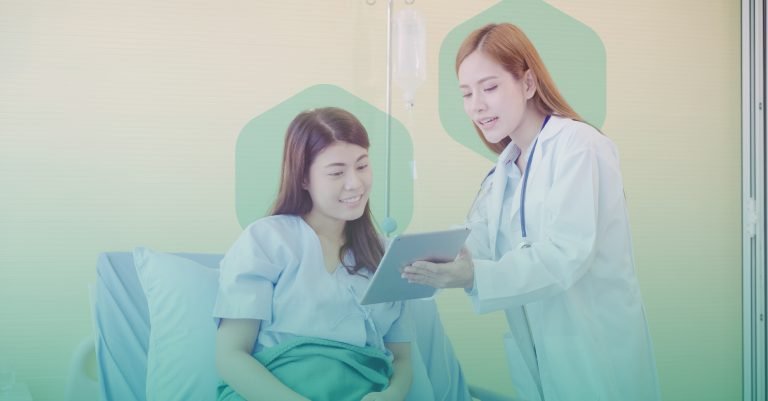 Tips For Improving the Hospital In-patient Experience
Here are some practical suggestions and tips for making in-patient care more efficient: 
1. Providing Effective and Timely Communication to Patients
In a typical clinical setting, especially in cases where there is a geriatric patient involved, there are various clinicians attending the patient. Examples of such clinicians include cardiologists, pulmonologists, endocrinologists, gastroenterologists, etc.
This leaves the patient a little confused in terms of what is actually their main issue and what ancillary issues are cropping up.  So the net effect is that the patient does not get a holistic picture of their health status. 
Besides the patients' family members would be even more anxious to know what are the procedures being done, the report status, etc. So it is crucial to provide the patients and their nominated family members effective and timely communication.
Aspects that need to be communicated include whether the diagnosis has been confirmed. Or if the diagnosis is not confirmed then what is additionally being done to ascertain the root cause of the illness being experienced. Or the line of treatment being provided, the period for recuperation, what the patient is likely to feel like. Or information on the medicines being given along with their side effects, if any, etc ought to be explained to the patients. 
2. Sharing Steps they Can Take to Expedite the Discharge Process
Typically, the patient is asked to wait till the doctor visits the next day for their daily rounds to get an understanding of their progress. Consider a scenario where the patient knows that if he or she can do "x" number of things to get better faster. Also, this information is readily available in an easy-to-access format. 
That is exactly what is happening at Stanford today. "In the room, we have a flight path, which includes the items that need to be accomplished in order for you to get discharged," Seyfried from Stanford Health Care explained. "It gives you daily and weekly goals so that you can try to achieve those and get discharged more quickly."
3. Enable Nurses to Focus on Clinical Care
According to a study conducted in the UK, during an average 8.5-hour shift, nurses spent approximately 3.1 hours per 8-hour shift with patients. Even in the Indian scenario, nurses spend a lot of time on activities other than patient care. In almost all healthcare settings, nurses undertake roles that are not of their forte. Hence, they are left with minimal time to carry out their actual roles and responsibilities. 
They are spending more time than necessary doing non-nursing-related work, such as coordinating for:
Billing

Record keeping

Inventory management

Laundry

Diet

Physiotherapy

Insurance

Housekeeping

Electrical work 
This reduces the time available for patient care. If at any instance, there is any fault in these roles, the nurses have to bear the brunt of that.
The other reason for nurses not getting sufficient time for clinical care is the lack of sufficient staff for administrative activities in the wards. So it becomes even more important to help the nurses declutter and assign only important clinical work to them. 
4. Allowing Patients the Ability to Self Care
Many times the nurse is the patient's key contact point for any concerns. These include things like an electrical fault in the room, food not reaching the patient on time, a glass of water, or a bedpan. Patients also contact nurses for information on when they would be taken for radiology and other tests etc.
To save time lost in coordinating these issues, it might make sense to empower the patients. Hospitals should consider allowing themselves to directly make their tasks known on a centralized hospital maintenance software for any such ancillary services. 
In addition to empowering the patient, hospitals need a system to provide real-time updates to the patient on what has happened to their hospital service management requests. Also, they need to know within how much time they can expect the service. So, the nurses, in effect get more time for clinical care, procedure explanation, updates on patient's health status, education, counseling, etc.
A case in point is that at both MUSC and Stanford Hospital, patients can control most of the digital technologies in the room. Using a tablet, both hospitals are able to integrate multiple operations, including the room lights, television, HVAC, the patient portal, and the education platform displayed on the TV. 
Patients and providers can bounce between different platforms and screens. The system allows the provider to seamlessly pull up the EHR for both them and the patient to view. The system even supports improving subtle aspects of patient experience such as letting a child keep watching his program on the tablet while his clinician discusses charts with his parents.
5. Feedback/Grievance Redressal Mechanism
Patients need to have a mechanism to have their grievances voiced in a timely and efficient manner. Many times, the feedback collection mechanism in corporate hospitals includes having a Patient Relationship Officer making daily rounds to check on how the patient is doing.
Alternatively, they provide feedback forms to patients. Though these are good first steps, they might not be fully sufficient by themselves as superlative measures. 
For example, it is common that patients did not like the food that was served to them for lunch, and it is made known only by the next day. In such cases, the staff has already missed the opportunity of getting the issue fixed immediately. 
Hospitals should provide patients with a system where patients are allowed to provide feedback by themselves. Also, there should be a notification system to send alerts to the concerned department/ personnel to enable quick intervention measures. This can lead to faster issue resolution and improved patient satisfaction.
Final Thoughts
These are some of the many ways in which hospitals can improve the in-patient experience. By putting an emphasis on patient care and leveraging technology, hospitals can create memorable experiences for their patients.
6Mins Read
Written By | Pooja George



For the majority of people, when they think of healthcare, a picture of those working on the front lines of care in hospitals and clinics comes to mind. There is a comprehensive health facility management system in place to make sure that the doctors and nurses who are in direct contact with patients can deliver top-notch care. According to a report, the healthcare facility management is expected to reach $8.3 billion in the US alone by 2026.
Just a week ago, I was reading about a company that claims to be a world leader in Concierge and personal assistant services. To give a background, Concierge is the French word for a caretaker or a staff member at a hotel in charge of special requests. I was amazed not only by the breadth of services but also by the number of industries this organisation could cater to.