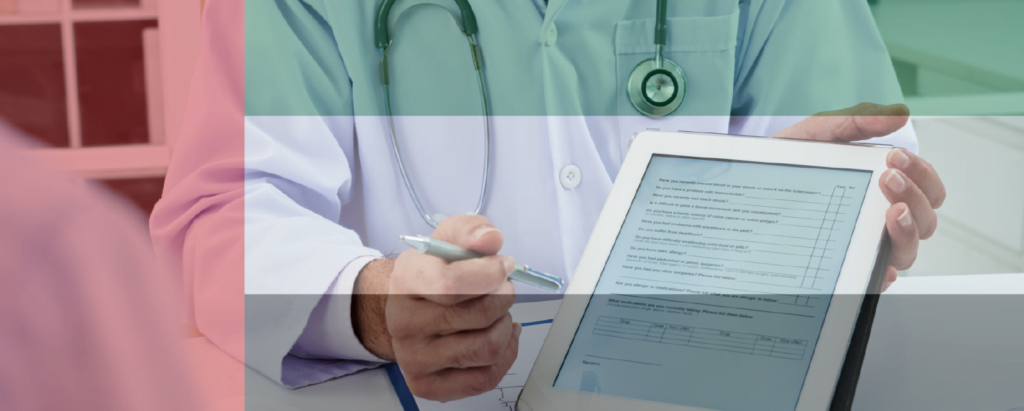 Online Reputation Management for UAE Healthcare Brands
The healthcare industry has a very delicate relationship with its consumers, i.e. patients. It is extremely important to provide a great patient experience across the patient's journey. The hospitals, clinics, and healthcare facilities in Dubai and all across the UAE are investing heavily in improving their services and service delivery. A strong testimony to this fact is that the UAE has the highest number of JCI-accredited hospitals across the Middle East. 
Still, the healthcare industry is always at risk of losing its customers/patients or damaging its reputation. In this industry, reputation is everything. If a clinic or hospital or any sort of healthcare facility somehow ruined its reputation it is extremely hard to recover.
In today's digital age, it is easy for people to access information online and make decisions. Online ratings have a strong influence on hospital online reputation management. People trust online reviews as much as personal recommendations because online ratings are a direct reflection of patient satisfaction levels. 
In this article, we will discuss why healthcare facilities in the UAE need to take care of their online reputation and how technology can play a key role in hospital online reputation management.
Healthcare sector in the UAE region boasts of world class infrastructure and facilities. Nevertheless, there are quite a few challenges in the way patients in the region experience care, and patient satisfaction could be improved.

Expatriates who form the majority of UAE population have a certain set of expectations regarding patient experience and care delivery from their care providers, given the perceived inflated costs they must incur on healthcare.

Amidst a growing preference for online channels for reviews and decision making in the UAE and fierce competition in healthcare, hospitals and clinics cannot ignore the importance of maintaining a positive online brand image.

A healthcare brand's image and reputation is directly corelated to patient feedback about the care and services they experience throughout their treatment journey.

Hospitals and clinics can leverage technology to conduct patient satisfaction surveys through multiple channels for getting faster and more accurate patient feedback.

Real time feedbacks enable hospitals to take rapid proactive and corrective steps based on negative reviews before they tarnish healthcare provider's image online.

 
The State Of Patient Satisfaction In The UAE
The UAE's healthcare system is renowned for being among the best in the world. According to reports from 2018, there were approximately 181 doctors for every 100,000 residents. Word of the quality of healthcare in the area has spread, causing an unprecedented rise in medical tourism, and the world-class medical facilities in the UAE are becoming increasingly in demand.
However, the healthcare industry in UAE has its fair share of challenges and problems. As per a research paper on determinants of patient satisfaction in the UAE region, it was found that although healthcare in the UAE is at par with global standards in terms of quality and accessibility, it is significantly lagging in areas like effective communication and responsiveness between patient and care provider and affordability of healthcare as well.
Both responsiveness and affordability have a positive relationship with overall patient satisfaction. This implies that when patients' expectations for these two factors are met, their perceived total satisfaction with health care services will rise.
Healthcare in the UAE region is also constantly plagued with a lack of skilled manpower. As per a research article published in 2021, there is an acute shortage of specialist doctors and skilled nurses. The same research also indicates that there is a lack of motivation among healthcare providers leading to a low rate of innovations and poor service delivery. Due to this, many patients are opting to pursue healthcare services abroad.
Another key metric affecting patient satisfaction poorly in the region is patient waiting times at the healthcare facility. A study conducted in 2019 upon a sample of 552 patients to assess their satisfaction with their waiting experience in UAE's hospitals revealed that patients are experiencing long waiting times for registration, consultation, pharmacy, and other departments. Significant causes for long waiting times were understaffing, inefficient processes, and inadequate facilities among other factors.
The growing expectations of patients, rapidly changing technologies, and the ever-increasing responsibility to provide high-quality and affordable healthcare to all are putting a strain on care providers to maintain their competitive advantage.
From the above, it is evident that as far as healthcare in the UAE is concerned, improvement is still needed around patient satisfaction and experience.
What Expatriates Are Expecting From Healthcare In The UAE
The population of UAE as of 2022 stands at 10.08 million of which expatriates constitute 8.92 million, which accounts for approximately 88.52% of the total.
Although expats have access to both public as well as private healthcare in the UAE, they prefer private care, where English is commonly spoken and most of the medical staff are expats themselves or foreign-trained. This inclination for private care has given rise to a large number of private healthcare players in the sector. As of 2018, the UAE had 104 hospitals: 33 government and 71 private.
However, the expat population often finds itself paying high prices for healthcare compared to Emirati citizens. A report by Khaleej Times found that people resent the high fees charged at private hospitals. 
Most companies in the UAE include health insurance as part of their salary package. However, this is not always the case. Insurance premiums range from around 5,500 AED per year (1,500 USD) for a thirty-year-old expat on a comprehensive plan to around 33,500 AED (9,120 USD) for a family of four. A basic coverage plan for a family of four should be around 17,000 AED (4,630 USD).
The perceived high costs of private care naturally set the stage for extremely high expectations from care providers regarding patient experience and care delivery.
Need For Online Patient Reviews In The UAE

Towards A Digital Landscape
More and more consumers in the UAE are embracing digital mediums for spending decisions and to connect with top brands. According to a report, almost 67 percent of Middle-east consumers prefer digital channels to engage with their choice of brands. Healthcare is no exception.
A study by vHealth revealed that residents in the UAE are embracing telemedicine, with virtual consultations appearing to be increasing in popularity. The same study suggested that 54% of UAE expats are highly likely to use virtual healthcare services to access primary care, which is 14% higher than the global average.
Importance Of Online Reviews
Companies must give online customer reviews the attention they require because they have the potential to create significant opportunities for revenue growth. Modern consumers are more empowered and expect better value for their money. No matter how big or small the purchase, they take their time to research all the information before making a final choice. This information is now easily accessible and therefore very influential thanks to the internet. It is also important to keep in mind that online reviews can have an impact on online reputation, which is a critical component of any business.
YouGov's study reveals the power of review and rating sites (such as Google Reviews, Glassdoor, etc.) and the trust people place in them. In the same study, it is reported that 67 percent of UAE residents trust review and rating sites, while only 5 percent indicated distrust.
Role Of Online Reviews In UAE Healthcare
In the UAE, finding a doctor or choosing a healthcare facility is largely done through online portals with a wealth of information at your fingertips about the physician and the clinic available 24 hours a day, seven days a week. Online reviews and feedback shared by patients about their care experience at a particular care facility play a crucial role in the search.
A survey conducted by NRC Health revealed the following key stats that reinforce the importance of online reviews:
60% of patients say they select or avoid a care provider based on reviews.
83% of patients say they trust online reviews more than personal recommendations.
47.5% of patients trust online ratings and reviews.
It is worth noting that the UAE healthcare industry, especially the private sector is experiencing cut-throat competition, thanks to the entry of global healthcare giants entering the market offering world-class care to the patients.
Hence it becomes imperative for the hospitals in the UAE to take very good care of their online presence and image in the digital space.
How Technology Can Help In Online Reputation Management
Technology can greatly aid hospitals in collecting patient feedback and understanding their needs by offering patients multiple channels to express their views and opinions without annoying them or compelling them to give their opinion.
A digital feedback collection system may comprise any or all of the following:
Online or web portal

E-mails and SMS

Smartphone apps

Interactive kiosks

Tablets and service desks

QR code-based surveys

IVRs
Whatever the medium used, it should be remembered that the process should not be forced upon or annoying to patients. Hospitals must maintain a balance when offering patients with surveys. Patients need not be bombarded with the same survey sent through multiple channels.
Once a patient has done a survey, there is no need to send them that survey again until they have availed themselves of the same service again.
Efficient and proactive feedback collection can enable hospitals to take preventive and corrective steps and reduce negative online reviews. Research shows that 30% of patients do not visit the hospital with poor online reviews. Digital channels help in identifying negative feedback quickly and allow addressing the patient's concerns in real-time. There's no risk of missing any feedback or human delays in processing feedback. This helps hospitals minimize negative online reviews and improve their overall review ratings.
A strong online identity can help hospitals bring in new patients. Google is the most visited site for reviews with 76% of patients checking Google reviews before choosing healthcare providers.
Positive Google ratings help new patients form a favorable view of any healthcare facility. Additionally, they can also boost hospital website's search engine rankings. If the website has more online reviews, the more important Google considers it to be. This indeed gives hospitals higher exposure and gives a big boost to their online reputation management.
Moreover, positive online reviews support building a strong patient base around the hospital's brand. With constructive patient reviews, hospitals can take appropriate steps to improve patient satisfaction. Beyond the Google ratings, online reviews help build trust and a long-term relationship with your patients.
However, it is also true that happy patients may not always leave a review. To deal with this, it is always better to consistently follow up with patients and subtly ask them to leave a review to increase your feedback response rates.
Technologically sound digital tools can be a formidable solution to conduct patient satisfaction surveys helping hospitals get faster and more accurate patient feedback.
9 Mins Read
Author | Sayan Nan