NABH Accreditation Process: The Importance of SOPs & Data Collection Tools
As Hippocrates said, "First, do no harm". It is the duty and responsibility of every healthcare worker to abide by this phrase. Healthcare institutions have been trying different methods to achieve adherence to this commitment. One of the methods has been setting standard operating procedures (SOPs) for every procedure. Setting SOPs is the first step in the right direction.
The National Accreditation Board for Hospitals & Healthcare Providers (NABH) has standardised these SOPs. It has also provided a scientific method and tool for implementing and evaluating hospital procedures. This blog highlights how NABH standards help in adhering to SOPs. It also highlights how hospitals can improve data collection for better NABH compliance.
Key Learning Points
Healthcare organisations have been using standard operating procedures (SOPs) to reduce medical errors

SOPs also help in improving care quality, reducing wastages, increasing inefficiencies, and increasing staff satisfaction

NABH has standardised SOPs and also helps in benchmarking with the best, which leads to continuous improvement

The right data collection tools play an important role in the NABH accreditation process as data helps in tracking the actual performance against SOPs

Technology can help in automating the data collection process at all stages of the patient journey, such as admissions, feedback, discharges, and more
The Role of SOPs in Improving Quality of Care
The implementation of SOPs needs constant monitoring and evaluation to understand the improvements and further optimisation of SOPs. For example, the implementation of a surgical safety checklist reduced patient mortality to 0.8% from 1.5% and inpatient complications to 7% from 11% in 8 different test hospitals. These measurement tools provide insights that help the hospital in further improving its patient care. 
As these SOPs are implemented across the hospital, they remove the ambiguity related to patient care. This helps in reducing medical errors and provides quick and appropriate care to patients. An example would be one of the case studies, which mentioned that the blood transfusion centers were able to reduce their waste, improve turnaround time and reduce the number of transfusion reactions as a result of implementing SOPs.
How NABH Standards help in Implementing the SOPs?
NABH standards help in benchmarking with the best of the institutions, which help hospitals in improving their efficiency by eliminating waste from different processes. All these lead to better patient satisfaction and improve the financials of hospitals.
As these SOPs become a part of the hospital routine, they also eliminate the continuous need for employee training. Also, the accreditation provides a competitive advantage and instills a sense of trust in the community about the hospital and its patient care protocols.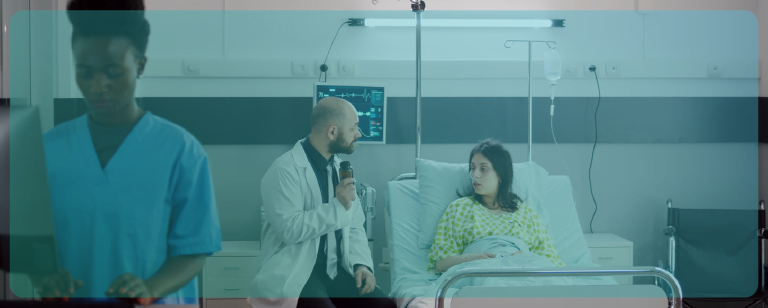 Challenges in the NABH Accreditation Process
The NABH accreditation process has many challenges, including inadequate infrastructural facilities, compliance with all regulatory and professional requirements, lack of training, documentation complexities, and concerns around information technology adoption.
Infrastructural changes are difficult to rectify for legacy hospitals, but newer hospitals are designed with NABH compliant infrastructure. NABH has been accommodative about infrastructure requirements, barring certain areas like fire safety. NABH focuses on patient safety through rigorous implementation of processes and improving the process further through continuous monitoring and evaluation.
Right data is needed to make an informed decision around process improvements/modifications. It becomes imperative to have the right data collection tools for the NABH accreditation process.

Improve the Data Collection Process for NABH Using Technology
Data collection errors should be avoided. One of the ways to reduce these errors is to automate the data collection process wherever possible. It is better to automate the process right at the source.
This could be achieved by modifying the HIS system and other IT systems of the hospital. For example, the TAT report of lab services can be captured using HIS with few modifications. Similarly, hospitals can also automate data collection at other processes like discharge, admission and patient feedback.
Also, automated methods allow the collection of additional data that provides insights into patient behaviour while minimising data errors. For example, automatic patient feedback collection further improves the efficiency of the hospital and provides insights into their service offerings.
Final Thoughts
Good patient care starts with well-defined SOPs and is enhanced with continuous monitoring and evaluation of SOPs. NABH accreditation provides a ready-made tool to achieve and maintain a high level of patient care in hospitals.
The need of the hour is to have good IT systems in hospitals to improve patient care further and increase employee satisfaction. As hospitals automate data collection, manual work or duplication of work will be eliminated, leading to improved work satisfaction.
7 Mins Read
Author | PradeepKumar Vaishya