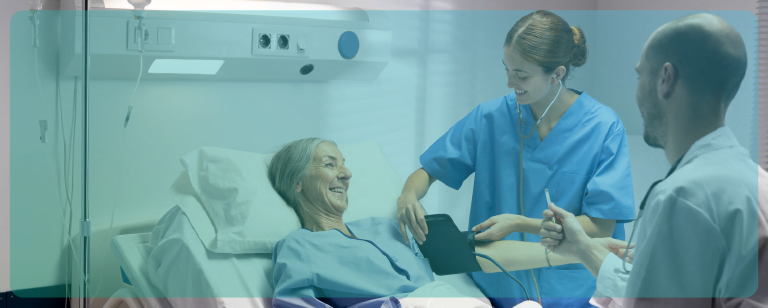 Automated Patient Communication Software Explained
Key Learning Points
Effective patient-provider communication lays the foundation for loyal and happy patients

A digital patient communication medium not only builds crucial patient-provider relationships but also brings about a plethora of other benefits to the entire healthcare sector

Similar to other communication mediums, digital communication also has its own ethics that must be followed strictly

There are certain essential features that are a must-have for any successful digital patient communication software

Before zeroing upon such software, healthcare organizations must adhere to certain best practices

Despite the benefits, widespread implementation of patient communication tools is not happening due to certain challenges and barriers. But thankfully there are practical solutions too
Introduction: Overview Of Patient-Provider Communication
Patient-provider communication is a vital component of the healthcare experience. It helps patients understand their care and provides providers with feedback on patient care. Additionally, patient-provider communication can help maintain trust and confidence between patients and providers.
When patients are more involved, they feel empowered and they're more likely to participate and follow through with their appointments and care.

Importance of Effective Patient-Provider Communication
There are multiple dimensions to patient-provider communication, such as communication between patients and doctors, communication-related to care administration, and so on. 
For example, a study has highlighted gaps in doctor-patient communication with 39% of patients being unsatisfied with the outcome of the consultation and the behavior of doctors. According to research by CRICO Strategies, out of 23,000 medical malpractice lawsuits filed between 2009 and 2013, 30% were the result of communication failures that resulted in 1,744 deaths, $1.7 billion in hospital costs, and 37% of high-severity injury claims, indicating that the primary cause is inadequate communication between doctors and patients. As per a Joint Commission International study, poor communication between caregivers during patient handovers led to 80% of serious medical errors.
Another dimension is communication between the healthcare provider and the patient. This covers communication-related to wait times, the ease of sharing feedback, billing-related information, communication when accessing non-clinical requests, and so on.
Healthcare being a people business, it is crucial to establish effective patient-provider communication. Sound communication between both parties increases satisfaction levels among patients, leads to higher NPS and CSAT scores and higher patient retention rates, reduces hospital re-admission rates, improves adherence to medication, and reduces costs for all parties involved.
What Is Automated Patient Communication Software?
Automated patient communication software is typically a cloud-based patient engagement solution that provides medical and healthcare facilities with tools and functionalities to aid in building trusting relationships and clear lines of communication with patients. The software manages and stores patient details, provides multiple always-on communication channels, facilitates appointment booking and re-scheduling, and much more.
Following the pandemic, the demand for and use of these tools has rapidly increased. According to this Accenture report, about 60% of patients are interested in using digital communication tools, and 63% affirm that the quality of their care was good or excellent.
These tools provide automated and customizable communication pathways across all service lines and cover the entire patient care journey delivering the right information at the right time.
Code Of Ethics Before Implementing A Patient Communication Software
Electronic communications also hold the same ethical responsibilities to patients as they do during clinical encounters.
Although extremely useful in healthcare, these channels can raise special concerns about privacy and confidentiality breaches. Apart from damage to reputation, breaches can cause real financial losses to healthcare providers. Annually, hospitals spend 64% more on advertising in the two years following a breach.
As per this report, there was an 80% increase in the number of people affected by health data breaches from 2017 to 2019. In the year 2020, confirmed data breaches in the healthcare industry increased by 58%. 
Additionally, this report found that healthcare data breach costs increased from an average total cost of $7.13 million in 2020 to $9.23 million in 2021, a 29.5% increase.
Due to these inherent risks, guiding principles in digital patient-provider communication should be strictly followed.
Maintain privacy, security, and integrity of patient information in line with professional standards.

Inform the patient of the inherent drawbacks of electronic communication.

Obtain the patient's consent before continuing electronic communication.

Present medical information in accordance with professional standards.

Understand the laws that govern when a patient-provider relationship is established.
Essential Features In An Automated Patient Communication Software
1. Automated Appointment Booking, Reminders, And Re-Scheduling
As per a report, around 43% of patients prefer to book appointments online. Automated appointment scheduling is a must-have feature that allows patients to schedule appointments and confirm available timeslots.
Additionally, it should be able to easily cancel or reschedule appointments to avoid needless follow-up calls or visits to the facility and reduce no-shows. This will enable the administrative department to concentrate primarily on its core responsibilities.
Appointment automation also immensely reduces wait times and evenly distributes patients among providers.
2. Payment Gateway Integration
Research estimates the CAGR of medical billing software to grow at 5.1% from 2020 to 2027.
A patient communication system with an integrated digital platform for billing medical expenses is a win-win feature for both patients and healthcare providers.
Such integration can have benefits like
Keeps track of claim status

Manages patient accounts 

Automates the billing process

Sends payment reminders

Allows online payment
3. Data Collection And Management
Data collection and management facilitate reviewing a patient's entire medical history on a single platform so that doctors can make timely and accurate recommendations based on the patient's past medical history. Care providers can get easy access to patient records, such as
Demographic information

Drug and allergy information

Laboratory test records and results

Medical history

Vaccination status
4. Reports Presented Through Interactive Dashboards
Another must-have feature is presenting patient progress reports using interactive dashboards. These reports not only assist care providers in predicting what patients might require but also boost patient retention rates. The predictions can be based on their:
Actions and lifestyle

Medical and genetic history 

Hereditary conditions and allergies

Current health and existing illnesses
5. Collecting and Analyzing Patient Feedback
Patient communication software can help providers improve their non-clinical care. For example, patient feedback is a key aspect of patient-provider communication. By making it easy for patients to share feedback and for providers to analyze the feedback and take corrective action, patient communication software can help increase patient satisfaction. Also, linked to the point of presenting reports through dashboards, smart automated patient communication software helps administrators analyze patient feedback in detail at a department level. 
It is possible that a single patient communication software may not have all the features needed to improve patient-provider communication. In such cases, you may have to resort to multiple solutions based on the unique strengths of each solution.
Things To Consider Before Selecting Automated Patient Communication Software
The following factors are worth considering before exploring and selecting an automated patient communication software:
1. Security And Compliance
By 2025, cybercrime is estimated to cost $10.5 trillion globally, increasing by 15% year over year. Keeping in mind the inherent security risks, HIPAA compliance is of utmost importance as healthcare providers leverage digital tools for patient outreach. HIPAA allows healthcare providers to use electronic communication mediums to provide healthcare information and treatment options to their patients if they "apply reasonable safeguards." Similar to HIPAA, ISO 27001 certification (an ISO standard for information security) is also a reliable indicator of information security.
2. Integrations
Second, it's crucial to choose patient communication software that can be easily integrated with existing EMR and practice management systems. In addition to saving time and frustration during implementation and onboarding, this is the best way to guarantee that communications can be tailored to a particular population's needs, behaviors, and history.
While integration is essential for clinical aspects of patient-provider information, you can also opt for non-integrated solutions for non-clinical patient-provider communication. For example, you can opt for a non-integrated patient feedback solution or a solution for patients to communicate their non-clinical requests during their hospital stay. 
3. Customization
Patient communication software cannot be based on a one-size-fits-all approach. The communication tool should be able to automate communications that still have a personal touch. Because of this, the majority of high-end patient outreach software enables providers to alter the content, including the message itself, the send date, the options for a response, the frequency, the language of communication, and more.
4. Ease of Use
Finally, for the care team to maximize effectiveness and evaluate the outcomes of patient outreach campaigns, the patient communication software must be simple to use.
Benefits Of Automated Patient Communication Software
1. Higher Patient Satisfaction
Patient communication software has emerged as a sure-shot winner with patients opting for this form of caregiving on a larger leve
2. Improved Workflows
Consistent patient engagement and communication can be a challenge, but it can be overcome with solutions such as automated appointment scheduling and reminders, digital feedback, and digital request management through interactive, multi-modal, and adaptable communication strategies. These communication workflows integrate into both clinical and non-clinical systems without difficulty, increasing productivity and minimizing hassles.
3. Increased Patient Involvement
Patients with chronic illnesses must continuously manage their health and continue receiving treatment. These patients can track their health and take an active role in their care, both clinical and non-clinical, by being given the tools they need through an active communication channel.
4. Increased Cost Savings
A March 2017 report from the University of California, Davis found that telehealth access produced about $100 in travel time cost savings per patient per year. In total, telehealth reduced travel distances by 5 million miles across the entire study population and resulted in $3 million saved in travel costs and nine years of travel time.
By involving patients in this way, healthcare organizations can maintain their presence in the digital health space.
5. Faster Issue Resolution
The predictive analysis of numerous aspects of healthcare, such as early disease detection, customized care management, optimizing electronic health records, etc., has now given a boost to patient communication solutions. Automated patient communication software can also help in faster resolution of non-clinical issues such as complaints about the front-office staff, unnecessary paperwork, or simple things like the quality of room cleaning during inpatient stays.
6. Higher Profits
A study from RevenueWell found that automated patient communication software translates into an average 6% annual revenue increase among practices that utilize it.
Challenges In Adoption Of Digital Patient Communication Software And Possible Solutions
1. Patients See Limited Use For Patient Communication Software
According to this 2017 report, very few patients actually think they need to get involved in a dedicated patient communication tool. For example, patients who are mostly healthy and who are not managing a chronic illness may not think they need regular access to their medical records and therefore write off the patient communication tool. 
Solution: Experts say providers should emphasize the tools according to user demographics, age, and other preferences. For example, a younger patient may not need to become familiar with lab results, while they could benefit from digital appointment scheduling tools or tools that helps syncing data from wearable devices to health records.
2. Patient-Physician Resistance To Change
The use of electronic communication is hampered by patient-physician resistance to change and lack of computer/email experience. Electronic communication is a completely new means of communication for some. The biggest challenge to getting people to opt in is educating them because many patients are used to the "old-fashioned model." For example, in the case of non-clinical aspects, patients may prefer to stick to traditional solutions like a paper-based feedback form or a nursing bell for non-clinical requests. 
Solution: There is a need to train health care providers and patients on the use and benefits of automated patient communication software. This will address the issue of resistance from both sides. The patients should be trained on the proper use of these applications to make it easier for them to familiarize themselves with these applications and break their fears. The training should address all the concerns of both parties.
3. The Interface Is Not Usable
Sometimes users of the patient communication software find the interface too complicated for any meaningful use.
Solution: Healthcare organizations should ensure the patient communication tool communicates data to the patient in a way that is useful to the patient. If the data is communicated in a difficult-to-access way, it simply buries the underlying utility of the tool. Apart from communication, the solution should be easy to use for patients across digital literacy levels. There are several considerations in designing patient-friendly solutions such as clearly outlining the designing goals, regular feedback from users, and so on.
4. Low Health Literacy
Patient health literacy is critical to increasing the adoption of any patient outreach software. Patients want to see the features they value in an easy-to-navigate format, but they also want to understand that information. A patient with low health literacy is unlikely to benefit from a patient communication tool.
Solution: Some health IT developers have begun to leverage natural language processing (NLP) to make patient outreach mediums more accessible for patients with lower health literacy. NLP helps to translate certain clinical terms used in the software to make them more understandable for patients.
5. Providers Not Promoting Digital Communication Mediums
Making the patient communication tool more attractive for patient adoption is only half the battle, the other half is to bring the provider to the software too.
Solution: According to research, patients are more likely to use the patient portal if they hear a provider recommend it. Higher adoption rates are typically observed among providers who firmly believe in the patient portal and incorporate it as the cornerstone of interactions between patients and providers. Providers can also promote patient adoption by enrolling patients in the clinic, explaining the key functions that can benefit patients in their healthcare management, and explaining how the tool will improve their patient-provider relationships.
6. Lack Of Financial Aid
The adoption of digital patient communication tools in various regions may also be impacted by financial limitations. For the effective adoption of such innovations, especially for the health systems based in rural areas, the health sector does not currently receive the funding that it should.
Solution: Technology should be developed in such a way that its useful for users across income levels. For example, there are still many who are using feature phones and not smartphones. Solutions should be designed in such a way that even people with feature phones can benefit.
7. Security And Privacy Concerns
Concerns about security and privacy continue to be significant obstacles in the use of automated patient communication software. This is because it is sometimes difficult to determine whether the patient is who they say they are. It is important to ensure that extremely sensitive data is shielded from hacking attempts by individuals with ulterior motives.
Solution: Any digital communication medium must meet the security and privacy requirements provided by the state and international agencies. One major way to improve the security and privacy of such tools is to make sure that patient data is encrypted. It is an effective way to ensure that the data is protected when it is in transit or stored in some locations. Role-based access control is another way to implement security and privacy. Choose providers with certifications such as HIPAA compliance and/or ISO 27001 to ensure your patient information is in safe hands.
Effectively communicating with patients is a fundamental aspect of providing quality healthcare. Communication helps build lasting provider relationships with patients. Digital communication tools are an effective way to achieve that. With a proper approach and mindset, the underlying obstacles can be easily overcome.
12 Mins Read
Author | Sayan Nan