Digital Transformation in Healthcare: Trends to Watch Out For
Although digitisation in Indian healthcare has been around for a few years now, Covid-19 has accelerated the pace of adoption by its user base like never before. For example, earlier, only 6-7% of clinicians were ready to offer video consultations.
However, now nearly 60% of physicians are ready for video consultations, according to Dr. K Hari Prasad, President – Hospitals Division, Apollo Hospitals. In this article, we will delve into the top healthcare digital transformation trends and how healthcare providers can amalgamate these for optimal patient experience and saving costs.
Key Takeaways
Digital transformation in healthcare covers four key areas: Technology, data, processes, and organizational change capabilities

India has seen a rapid surge in digital adoption, especially due to COVID-19

Artificial intelligence can help in diagnostics by generating reports quickly and in a cost-efficient manner

Technology can play a significant role in streamlining scheduling and registrations

The use of wearables for remote monitoring can enable better clinical outcomes

Remote consulting or teleconsultations can help healthcare providers reach wider audiences

Digital twins and virtual reality can improve training, leading to fewer errors and reduced physician anxiety

Interoperability of health records across the hospital system can facilitate better decisions

Automating administrative tasks, such as room service ticket management, can reduce the workload of nurses
What is Digital Transformation in Healthcare?
According to Harvard Business Review, the four main areas of digital transformation are technology, data, process, and organizational change capability. 
Technology relates to understanding how emerging technologies, such as artificial intelligence,  can be applied to specific healthcare business needs. Technology also covers integrating newer technologies, such as cloud computing and wearable devices, with legacy systems.
Data involves integrating relevant internal and external data while doing away with unessential data for more intelligent decision-making. Data also covers empowering front-line workers, such as administrative staff, to create the correct data by improving their work processes. 
The process covers radically engineering traditional processes to meet patient needs better, streamline workflows, and eliminate redundancies. 
Finally, organizational change capabilities cover the human side of things in combining the above three areas related to digital transformation.  
Digital transformation brings all these pieces together to solve the problems facing healthcare providers, patients, and the entire healthcare ecosystem.
Healthcare Digital Transformation Trends in India
An IBEF report states that India is among the few countries that have emerged as one of the fastest-growing digital economies over the past few years, characterised by 90% growth in terms of digital adoption index between 2014 and 2017. A recent study by Accenture highlights that the industry stands to save over $60 billion in the long term by making the right technological investments today.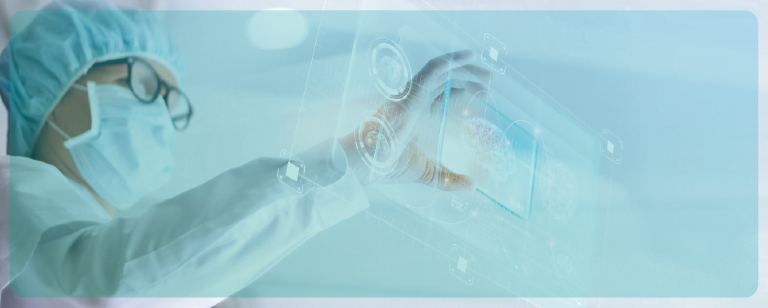 Digital Trends to Watch out for in the hospital industry:
1. Using Artificial Intelligence to Generate Reports Quickly and Accurately
With a grave demand-supply gap of Radiologists and Laboratory Specialist doctors, it augurs well for hospitals to embrace AI platforms for generating reports. This can help reduce burnout among physicians and reduce TATs from testing to report generation. 
For example, AI can assist with interpreting reports for chest x-ray scans to help segregate them as normal or abnormal. So, the radiologists can spend more time focusing on the cases that require their due attention.
Similarly, the usage of AI to read Head CT scans can make a significant difference to a patient who suffers from a stroke. This can minimize intervention time from minutes to seconds, which has drastic consequences on life. 
In a rural missionary hospital in India, there were no Radiologists available to read chest x-rays. As part of a public health program, the hospital was offered AI assistance, which enabled a large number of patients to get timely treatment for tuberculosis. The introduction of AI also reduced TATs for the detection of TB from a couple of weeks to seconds. 
2. Improve the Ease of Booking and Scheduling Appointments
There would be a percentage of people who would prefer to have tele-booking service via the hospital's front office staff. However, did you know that it would take an average of 5-8mins for a tele-appointment booking to be completed, which could be a drain of your time and resources. 
A patient self-scheduling system is a great solution. This can be done by allowing online booking and scheduling on your website and integrating it with payment solutions.
Another alternative you can explore is having a patient scheduling hospital kiosk for enabling registrations and check-ins, like a self check-in kiosk in airports. This technology is currently being used in several hospitals in India, and patients are elated about this.  
3. Use of  Wearables for Remote Monitoring
Wearables have now become mainstream, thanks to Fitbits and smartwatches. According to research from Business Insider Intelligence, more than 80% of consumers are willing to wear fitness technology.
Besides the mainstream gadgets, there are a plethora of options that customers can choose from, be it wearable ECG monitors, blood pressure monitors, and biosensors that can track their pulse, temperature, and heartbeat, and sleep patterns. 
Although some healthcare providers might not embrace the wearables technology for patient diagnosis, one cannot neglect their stake as a remote monitoring tool. Hospitals need to provide consumers with the option of monitoring their health on a regular basis through the wearables and share data trends with doctors to enable holistic patient treatment and clinical outcomes.
4. Meet Patients Wherever They Are Through Remote Consulting
Not all healthcare consultations can be done virtually. However, for routine consultations, 2nd opinion based consultations, it would be a great option for consumers to have a teleconsultation option made available at hospitals. Besides, this is a great way to reach out to consumers in Tier 2, Tier 3, and the remotest locations to ensure access to quality healthcare. 
Telemedicine allows for the remotest patients to have access to the best clinicians from the cities and get the right diagnosis and early treatment for their ailments. This technology came into practice in India in 1997 and has leaped in adoption post-Covid.
Patients now want to access and use patient portals and apps, but the technology needs to be functional and intuitive, meeting them where they are. Adoption will remain minimal if the technology is too difficult to access or use, and certain patient populations will experience reduced care.
5. Digital Twins and Virtual Reality for Healthcare Based Training
Digital twins and Virtual Reality Environments (VREs) allow users to experience real-life scenarios via simulation and enable them to get practical knowledge that would otherwise be difficult to comprehend in a real environment. 
In the Indian context, although simulation has made inroads in the form of having medical mannequins and high-end human patient simulators, the proposition to scale this technology is limited.
Virtual reality makes it easier to penetrate a larger number of junior doctors. This can aid them to learn anatomical positions better, reduce anxiety about undertaking various procedures like intubation and laparoscopic surgeries, etc. 
Skills that typically take longer to acquire can be honed through virtual reality. It would help improve practitioners' skills and speed and mobility in operating rooms in tandem with in-hospital training to yield the best results.   
6. Interoperability of Electronic Health Records Across the Hospital System
Interoperability of health data enables easy information retrieval, helps avoid medical errors caused by communication barriers, and largely reduces the documentation burden. 
A case in point is while working with a JCI accredited hospital, there was the introduction of PDA for pharmacists. Typically, various specialists would write down medications for each patient's ailments.
However, drug-drug interactions could not be identified fast and effectively. The adoption of technology helped bring down these adverse reactions and enable better patient outcomes. 
7. Automating Administrative Tasks to Focus on Patient Care
The advantages of automating administrative tasks cannot be overstated. For example, a nurse's role, though predominantly is patient care, it involves various administrative tasks.
These include things like keeping the crash cart stocked, indenting medication, staff scheduling, informing the front office post patient discharge for new admission purposes, etc. 
By leveraging technology, many of these tasks can be automated so the caregivers can focus complete attention on patient care. For example, the crash cart may have a sensor connected with the in-patient pharmacy department that intimates them if a certain item has to be replaced. This can help nurses avoid having to stock check and then indent for the medication. Another example would be that of staff scheduling, which requires changes made based on real-time scenarios.
Final Thoughts
Each of the above healthcare digital transformation ideas can mean enhanced patient experience and loyalty, reduced burnout for practitioners, and timely delivery of services and cost efficiencies for consumers. 
Besides, most importantly, these healthcare digital transformation ideas can enable the shift from curative to predictive, preventive and personalised healthcare. 
The future of healthcare is helping people take the onus of their health. This can be done by embracing technology to translate and make sense of vast amounts of data into bite-sized, easy to understand and implementable to-dos for patients.
9Mins Read
Author | Pooja George